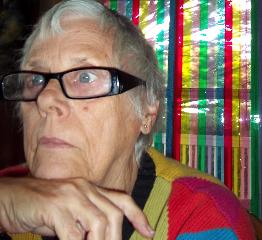 Nola Taylor
NOLA TAYLOR born Noela Pelin in Brisbane on May Day of the year World War 2 began. Early art education at Brisbane Polytechnic and summer schools at the Universty of Queensland.
EARLIEST MEMORY – At 3 'helping' to make costumes for camp concert parties produced for American troops by my extended family.
MOST MEMORABLE ACHIEVEMENT- following the huge new trade union banners I had 'fabricated' down George Street Sydney on subsequent forty-something birthdays.
FAVOURITE PASTIME – At 70 I returned to TAFE to study traditional media (oils) as the time honoured archive but I try to express myself within that framework as individually as possible. Life is too short to repeat art that someone else has already nailed.
A little about my background ….
I grew up the only child in an extended household of creatives. I have always been an artist and am always training, but yes I did a course at Brisbane polytechnic when I left school.In 1957.
I then visited friends in USA and started painting in oils and on return did Gertrude Langer's Summer Schools at University of Queensland with tutor Jenny Bardwell and exhibited first with the Embroiderers Guild Q'd, then in NSW when the family moved to Sydney.
Travelled with the Crafts Council of NSW for six tours, with Ian Burn making banners as part of art and working life commissions, followed by a decade as community artist in western Sydney on various projects.
AIDS Quilt volunteer.
Women's art project at the Tin Sheds, worked with Peter Kennedy, Marie McMahon and Vivienne Binns.
And …… Much much more

Art certificate at St George Camus of Alexander Mackie and again when I came to Glen Innes from scratch … and then travelling to Armidale for diploma. The course closed before I completed but since 2000 I have had a ten year retrospective of work (Three galleries full) exhibiting on the tablelands at Ceramic Break Sculpture Park Warialda.
Comments are closed.