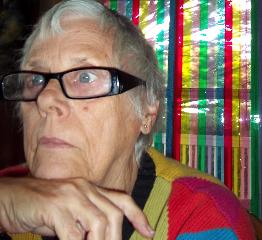 Nola Taylor
NOLA TAYLOR born Noela Pelin in Brisbane on May Day of the year World War 2 began.  Early art education at Brisbane Polytechnic and summer schools at the Universty of Queensland.
EARLIEST MEMORY  – At 3 'helping' to make costumes for camp concert parties produced for American troops by my extended family.
MOST MEMORABLE ACHIEVEMENT- following the huge new trade union banners I had 'fabricated' down George Street Sydney on subsequent forty-something birthdays.
FAVOURITE PASTIME – At 70 I returned to TAFE to study traditional media (oils) as the time honoured archive but I try to express myself within that framework as individually as possible.  Life is too short to repeat art that someone else has already nailed.
For more information visit Nola Taylor