Maggie Brockie – Sculptor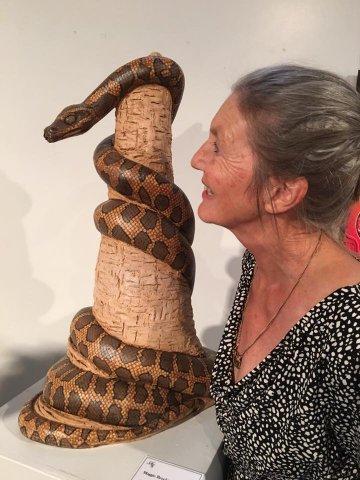 With clay as her medium, Maggie has become well known for her wildlife sculptures.  Maggie also enjoys expressing her connection with all things through her more spiritual figurative works.
Maggie runs inspirational workshops in her Bush studio and tutors interstate.
Current Exhibition
Maggie's exhibition, Response to Nature is currently showing at Stanthorpe Regional Art Gallery along with Separate Realities, a retrospective of Denis Brockie paintings. Exhibition closes 26th November. Artists talk with Maggie on Thursday 2nd Nov. 10am, at the gallery.
About the Artist
Born in Tasmanian,  I moved to the Sunshine State in 1977. Living on the Granite Belt still allows me to experience the four seasons, while enjoying the warmth of the Queensland sun.
Having raised a family, and in my mid forties, I discovered the joy of working with clay in 1994.
Encouraged by family and friends I turned professional after a successful solo exhibition at Bungawarra Winery in 1998.
While basically self taught I have attended workshops with well-known International and National tutors.  In 2012, I had two months overseas, visiting Morocco, Paris and Norway where I was influenced by vibrant cultures and inspired by their arts, particularly sculpture.
Influence greatly by my bush surroundings and inspired by the birds and 'roos who visit my garden, I create realistic sculptures which capture the character and vulnerability of our ever diminishing wildlife.  With a focus on common through to endangered species I wish to convey a message of concern, yet hope for the natural environment.
My greatest challenge is to try and capture the life force of my subjects in the completed sculptures.
The majority of works are bisque fired in a gas kiln before being airbrushed using under glaze colours and then fired to 1130C.
I endeavor to keep my work exclusive to the Granite Belt and surrounding districts. Studio visits are by appointment. Work is held in private collections nationally and in many overseas countries.
Gallery
For more information, visit my website: Maggie Brockie 
Comments are closed.